1999 2021 113 State, Parks & WCD Quarter P Uncirc COMPLETE Set in 2 Folders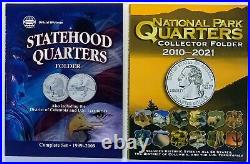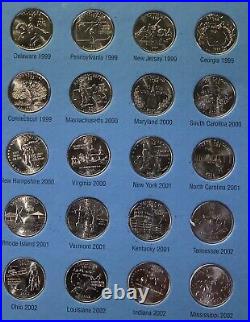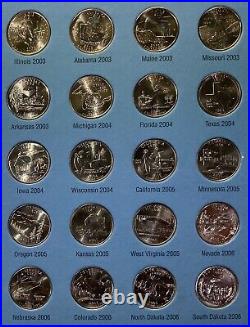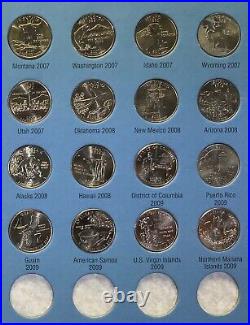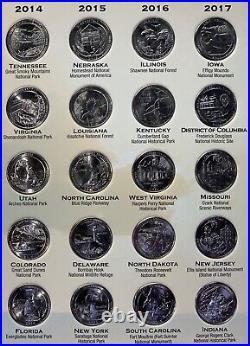 1999 - 2021 State, Territory, America the Beautiful National Park & 2021 Washington Crossing the DE Quarters Philadelphia Mint Complete Set (113 coins) in Two Separate Whitman Single Mint Folders. Up for sale is a 113 quarter Philadelphia mint quarter set which includes all of the State (50 designs released from 1999 - 2008), Territory (6 designs released in 2009), America the Beautiful National Park (56 designs released from 2010 - 2021) Quarters & the one year 2021 only Washington Crossing the Delaware design. This set contains an uncirculated example of all of the 113 Philadelphia Mint quarters from 1999 through the completion of the National Park series in 2021 plus the 2021 only Washington Crossing the Delaware Design. All the quarters in this set have been taken directly from mint rolls/bags, handled with gloves and not touched by human hands.
This is a nice uncirculated quarter set. All of the coins will come mounted in two separate Whitman folders. One State Whitman Folder for the 56 P state/territory quarters and One National Park Whitman Folder for the 57 P national parks quarters (including the Washington Crossing the Delaware P).
This set includes the following 113 coins from the Philadelphia mint. 1999 Delaware, Pennsylvania, New Jersey, Georgia, Connecticut.
2000 Massachusetts, Maryland, South Carolina, New Hampshire, Virginia. 2001 New York, North Carolina, Rhode Island, Vermont, Kentucky. 2002 Tennessee, Ohio, Louisiana, Indiana, Mississippi. 2003 Illinois, Alabama, Maine, Missouri, Arkansas.
2004 Michigan, Florida, Texas, Iowa, Wisconsin. 2005 California, Minnesota, Oregon, Kansas, West Virginia. 2006 Nevada, Nebraska, Colorado, North Dakota, South Dakota. 2007 Montana, Washington, Idaho, Wyoming, Utah. Shenandoah, Arches, Sand Dunes, Everglades. 2015: Homestead, Kisatchie, Blue Ridge Parkway, Bombay Hook, Saratoga. 2016: Shawnee, Cumberland Gap, Harpers Ferry, Teddy Roosevelt, Fort Moultrie. 2017: Effigy Mounds, Frederick Douglass, Ozark Waterways, Ellis Island, George Rogers Clark.
2018: Pictured Rocks, Apostle Islands, Voyageurs, Cumberland Island, Block Island. 2019: Lowell National Monument, American National Park, War in the Pacific, San Antonio Missions, Frank Church. 2020: National Park of American Samoa, Weir Farm, Salt River, Marsh Billings, Tall Grass. 2021: Tuskegee Airman National Park, Washington Crossing the Delaware (non-National Park design).
As Always, Thanks For looking!