2007-2016, 2020 Presidential $1 PD 80 Coin COMPLETE Satin & Uncirc Set in Dansco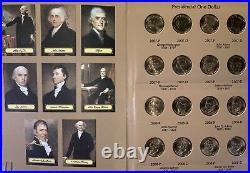 Presidential Dollar Philadelphia & Denver 80 Coin Complete Uncirculated Set in New Dansco (Includes Satin Finish Coins from 2007 - 2010). Up for sale is a 80 coin Presidential Dollar set including all 40 presidents released as part of the now complete Presidential Dollar series to date from the Philadelphia and Denver Mints. 2007 to 2016, Washington to Ford + Reagan + 2020 George Bush Sr. : Note that there is no Carter coin as the mint will not produce one even though the Dansco Album has a hole for the Carter P&D coins. There are also no presidential dollars for presidents after George Bush Sr. All coins have been carefully taken from uncirculated US Mint Rolls/Mint Sets and placed in a new Dansco Album. The 2007 through 2010 coins are the "satin" strike coins from the US Mint set and are generally of higher quality than the coins from rolls. The coins are all placed in a new Dansco album. The Dansco album includes pictures of all of the presidents as well as information on each of the presidents.
Note that these are uncirculated business strike coins and due to the minting process even coins straight from the mint and out of the mint wrapped rolls may contain marks, scratching or staining. This is normal for these coins.