Australia 2010-2011 Bush Babies 5-Coin Complete Collection Pure Silver Proof Set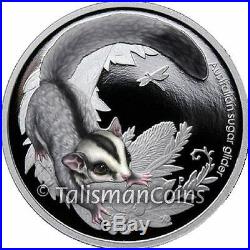 This listing is for the COMPLETE 5-Coin Collection of all five different Bush Babies half dollar silver proofs! Get the COMPLETE COLLECTION of all FIVE adorable, hard-to-find and phenomenally popular Bush Babies pure silver proofs - Kangaroo, Sugar Glider, Dingo, Bilby and Koala! The native Australian fauna has generated curiosity since the first Europeans set foot on the island continent.
Most Australian mammals belong to the class. Characterized by a distinctive pouch (called the marsupium), in which females carry their young through early infancy. These young are unique in that they are born helpless and live the mother's pouch before being able to venture forth to explore their habitat. Celebrating five adorable baby animals.
The stunning and phenomenally popular Bush Babies Program. Proof collector coins has enjoyed the incredible popularity of the Sea Life - The Reef series. Get the complete set of 5 while we still have them all! Notice that each baby Australian animal has a small insect "friend" to accompany him! Bush Babies 5-Coin Animal Pure Silver Proof Set.
Of the Bush Babies Series. Minted in 99.9% pure silver by the Perth Mint, and includes coins featuring the following native Australian marsupials except the dingo.
Your Own Personal Art Gallery! Another clever innovation and a neat little bonus!
Is the colorfully illustrated outer box shipper. Each features a different, original commission by the designer of the coins, artist Elise Martinson (please see the section lower in this presentation for a short biography of the artist). When lined-up in release order, the outer boxes will form a gallery of original artworks of the five baby critters by a well-known, Australian animal artist. May be available at a nominal additional charge.
This is a superb way to protect and present all five coins in their full color, illustrated cases. The creator of the original artwork for both the coins and the colorful, outer boxes for the Bush Babies series. Elise is an Australian artist, graphic designer, and illustrator who loves animals. As you can see from her photo! After studying multimedia design for four years and then working for year and a half as a graphic designer, she became eager to follow her dreams of creating 3D art for games or movies. Realizing that the limiting factor to 2D and 3D artwork was not software knowledge, but rather the ability to create concepts and accurately render them, she is now dedicated to further cultivating her drawing ability. Elise currently designs both coins and graphic artwork for the Perth Mint, and still hopes to break into the games industry one day as a concept or production artist. Several of her better-known projects for the Mint are the Outer Space Dollars 9-Coin Set.
The Backyard Bugs Dollars 9-Coin Set. Elise was formerly a resident of Melbourne, Victoria but now resides in Perth, Western Australia. Here are links for Elise Martinson's online blog. The Bush Babies Pure Silver Proofs with Color. It's no secret that these have proven phenomenally popular, and, as a result, hard to find.
These are very scarce issues that will continue to get harder and harder for collectors to find as time goes on. The Perth Mint of Australia employs its own proprietary colorization technology, in which the color is actually sealed on the coin.
The vibrant hues and precise execution of the technology create a stunning, full-color portrait on each coin. The central, color image is Australian artist Elise Martinsons original and gorgeous interpretation of a baby native Australian mammal.
Each cute and cuddly critter is set against a background of indigenous Australian flora, engraved in frosted cameo relief, and includes his insect friend. The Perth Mint's "P" mint mark is judiciously hidden in the grasses. The legend on each coin names the animal. Her Majesty, Queen Elizabeth II of England, in crowned profile facing right. This portrait, featuring Her Majesty wearing a tiara and pearl earrings, was executed by the sculptor Ian Rank-Broadley.
The legend ELIZABETH II, the date of issue and denomination also appear. The legend 1/2 OZ 999 SILVER guarantees the weight and purity. Each coin is encapsulated inside a handsome taupe leatherette, clamshell-style presentation case, lined with black velvet and satin, and protected by a full-color outer box. An individually-numbered certificate of authenticity is included. 77.955 g (5 x 15.591 g). 10,000 each single coin. Elise Martinson (obverse) Ian Rank-Broadley (reverse). Is a truly unique animal, looking like a living stuffed animal, and the young bear depicted here is no exception - we think he may be the cutest of all the Bush Babies! Like three of the other four mammals of the Bush Babies Program. The koala is a marsupial the Dingo. Is the only non-marsupial of the bunch. The baby koala depicted on this coin looks contented as he sits against a background of golden wattle, waratah and flowering gums, fat and sassy with his cicada friend. A Most Unusual and Surprising Bear!
Despite its appearance, the koala bear. Isn't really a bear at all, but rather a marsupial. Nonetheless it fascinates us because it's so darn cute - it looks like a living teddy bear!
Appearances can be deceiving here, too, because koalas aren't cuddly, either. They are arboreal (tree-dwelling), so they have very strong, sharp claws for climbing (and their bite can cause injury, as well). Koala bears live nearly their entire lives in the eucalyptus (gum) tree, where they feed almost exclusively on its leaves. They have a very low metabolism for a mammal, so they spend up to 20 hours a day resting and sleeping (and the rest mostly eating).
Eucalypt leaves are high in toxic chemicals such as phenols and terpenes, which only the koala has adapted to deal with - the toxins are neutralized in its specialized liver. Marsupials are unusual, and, many scientists believe, more primitive, mammals.
Their best-known characteristic is the pouch for their young, and the koala is no exception. The babies, called joeys, are only a quarter-inch long when born, and enter the world hairless, blind and earless, so the safety of mother koala's pouch is a necessity for its first six months of life. For its second half-year the joey will generally ride on mom's back. See the article at the end of this presentation for some Koala Fun Facts! You'd think that it couldn't get any more odd than a living stuffed animal that spends its entire life in, and only eats the leaves of, one kind of tree.
If so, you'd be wrong - koalas are among Nature's most unusual and unique creatures. Here's a couple of other oddities about these fascinating fur balls. Koalas are often thought to be silent, and they are most of the time, but males have a very loud mating call that can be heard for a distance of about one kilometer away during the breeding season! When attacked, koalas may issue a loud cry, which is often likened to that of a human baby. The koala bear is one of the few mammals (other than primates) that has fingerprints.
Koala fingerprints are remarkably similar to human fingerprints - even when viewed with an electron microscope, it can be quite difficult for an expert to distinguish between the two! The item "Australia 2010-2011 Bush Babies 5-Coin Complete Collection Pure Silver Proof Set" is in sale since Wednesday, March 7, 2012. This item is in the category "Coins & Paper Money\Coins\ World\Australia & Oceania\Australia\Commemorative". The seller is "talismancoins" and is located in Saint Louis, Missouri.
This item can be shipped worldwide.
Country/Region of Manufacture: Australia
Certification: New in Full Original Mint Packaging OGP + CoA
Grade: Proof
Year: 2010
Circulated/Uncirculated: Uncirculated
Composition: Silver