Complete Roosevelt Dime Set 1965 To 2021 All UNC P, D, S, And Silver, Description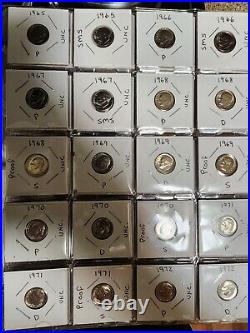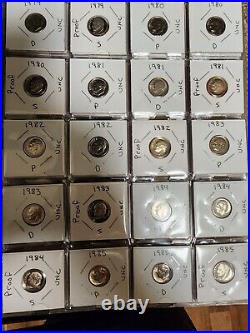 This is a complete set of Roosevelt dimes from 1965 to 2021, including all P, D, and S mint marks as well as silver versions. The coins are in uncirculated condition and are ungraded. They were struck in both business and proof strikes in San Francisco, Philadelphia, and Denver. This is a great opportunity to own a comprehensive collection of these iconic coins. 1965 to 1967 P and SMS. 1968 ro 1991 P, D, S. 1992 to 1995 P, D,, S, S Silver. 1996 P, D, S, S Silver, W. 1997 to 2008 P, D, S, S Silver. 2009 to 2011 P, D, S.
2012 P, D, S, S Silver. 2013 to 2016 P, D, S. 2017 P, D, S, S Enhanced. 2018 to 2022 P, D, S.