The Complete John F. Kennedy UNC US 1/2 Dollar Collection Coin Set, 46 Panels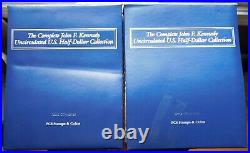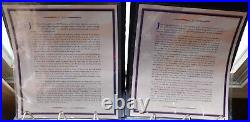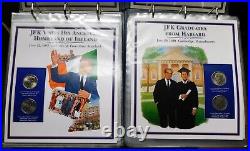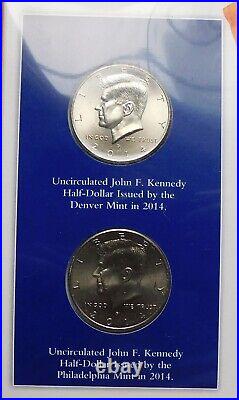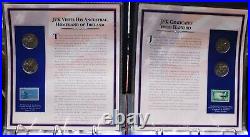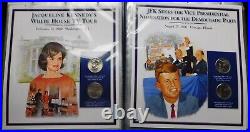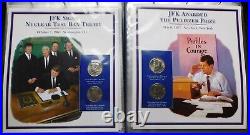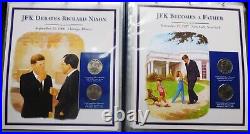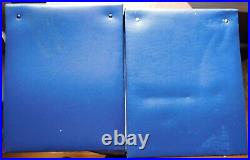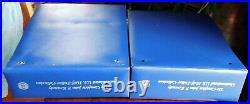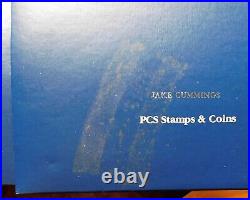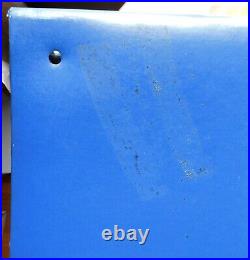 Panels commemorating various events in the life of JFK. Each panel contains historic stamp(s) and half dollar coin(s) from the Philadelphia and/or Denver Mints, including Silver halves minted between 1964 and 1969. The panels in these two albums are as follows.. JFK Visits His Ancestral Homeland of Ireland - 2014-P&D 50C.
Jacqueline Kennedy's White House TV Tour. JFK Signs Nuclear Test Ban Treaty - 1982.
JFK Debates Richard Nixon - 1984. JFK Initiates the First US Combat Mission in Vietnam. JFK Signs Cape Cod National Seashore Act. Kennedy Leads PT-109 Crew to Safety - 1983. Kennedy Marries Jacqueline Lee Bouvier - 1971.
JFK is Elected to Congress : 1966-P, 1967-P, each 40% Silver. JFK is Elected President : 1968-D, 1969-D, each 40% Silver.
JFK's Funeral - 1964-P&D, each is 90% Silver. Cuban Missel Crisis Ended : 1986-P&D. JFK Elected to the Senate : 1965-P, 40% Silver. JFK Leaves for European Summit : 1980-P&D.
JFK's Birth : 1988-P&D 50C. First Live Telecast of a Presidential News Conference : 1993-P&D. First State of the Union Address : 1994-P&. JFK Launches Bay of Pigs Invasion : 1991-P&D.
JFK Proposes Sweeping Civil-Rights Legislation : 1992-P&D. JFK Graduates from Harvard : 1985-P&D. JFK Seeks the Vice Presidential Nomination for the Democratic Party : 2009-P&D. JFK Awarded the Pulitzer Prize : 1978-P&D. JFK Becomes a Father : 1995-P&D. JFK's Running Mate : 2005-P&D. JFK Accepts the Nomination for the Presidency : 1981-P&D. JFK is Inaugurated as President : 1973-P&D. JFK Provides Aid for the Aged : 2006-P&D. JFK Speaks About His Religion : 2008-P&D. JFK Names His Cabinet : 1996-P&D. JFK Launches The Peace Corps : 1974-P&D. JFK Creates Equal Opportunity Committee : 2003-P&D. JFK Proposes The Alliance for Progress : 1976-P&D.
JFK Announces Moon Landing Challenge : 1979-P&D. JFK Appoints Two Supreme Court Justices : 2007-P&D.
JFK Orders National Guard to University of Mississippi : 2000-P&D. Congress Approves JFK's Trade Expansion Pact : 1999-P&D.
JFK Proposes a New Education Program : 1997-P&D. JFK Creates the Presidential Medal of Freedom : 2002-P&D. JFK Establishes President's Advisory Council on the Arts : 1989-P&D. JFK Speaks at the Berlin Wall : 1990-P&D.
Hot Line Link Activated with Soviet Union : 2001-P&D. The item pictured is authentic and is the item you will receive. Thank you and good luck. Any statement regarding grading and condition are subjective and represent our best opinion. Please make sure to take a close look at the pictures to judge for yourself.
All coins and paper currency are stored in coin flips and/or semi-rigid bill holders. We do not end auctions early.